A site dedicated to provide a central point of
contact of ADAMSON genealogical information, that
can be shared by All researchers.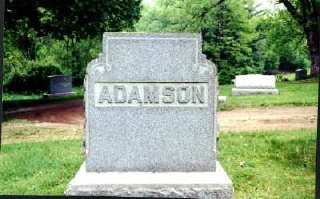 ------ NEW------
27 August 2011
Pioneering Spirit , Tracing the Footsteps of Colonist John Adamson
and
23 March 2012
Historical Events of John Adamson from the Quaker Records
( Both - A MUST READ )
NOTICE: NOTICE: NOTICE: NOTICE:

All quaker dates have been converted to the Gregorian Calendar. This will present
a more understandable and consistent view of early quaker dated events.
You need to review your records for this difference (see article on Quaker Calendar in Left Margin).
Cousins
Do you know any of your second cousins? As we are doing our research on our lineage, most likely a second or third or even a forth cousin may have information that is important in your research.
This web page has been very successful in finding second and third cousins. When you submit your data to me and I display your lineage in the Researchers Database, your lineage will be seen by other Adamson researchers, and most likely one of your cousins will see and recognize your lineage.
When I see common lineage among researchers, I will notify both parties and exchange email addresses.
It is very important that you advise me of changes in your email address and that You submit your information to me. I only show in the Researchers database the basic data, and nothing about living persons other than their name. I have full control on what is displayed.



It is the mission of this site to provide the programs and electronic storage space
where genealogical information can be stored and retrieved by other researchers.
Using Rootsweb server and programs, A mail list Program is provided to have conversations of mutual interest, that can be easily shared with all subscribers.
Using the new Ancestry.com and Rootsweb server, a permanent storage of Queries, Obituaries, Bible Records, Biographies, Deeds, Pension, Wills and other catagories that can be stored by category and reviewed at the researchers convenience.
A genealogical database of Adamson Researchers.
A photograph album of ADAMSON tombstones.
A photograph album of Adamson Families.
A listing of facts and places named Adamson.
A place to disseminate information of mutual interest.
[Space is available for old photographs, maps, and other information]


This is your site and its success will depend upon your participation and assistance. Genealogical data
is not always available and hours, days, even years are needed sometimes to gather enough clues to
piece together the part of the puzzle that contains the information we need. Sharing of
information helps new researchers in finding the way and others by
providing new information not previously known.
This requires us to share.



If you have any questions, please contact me.

Jerry F. Adamson

Copyright © 1998-2018 Jerry F. Adamson, All rights reserved. Last updated 06/16/2016.
All measures are taken to insure the accuracy of the information contained on these pages.
Any omissions and/or acts of misinformation are purely unintentional.
This data may be used by non-commercial entities. These electronic pages cannot be reproduced in any format for profit or other gain. Copying of the information within by non-commercial individuals and libraries in encouraged. Any other use, including publication, storage in a retrieval system, or transmission by electronic, mechanical, or other means requires the written approval of the database owner.

This site suggests message boards available to its users. Please remember
that any information that is disclosed in these areas becomes public information
and you should exercise caution when deciding to disclose your personal information.
If you ever have a concern about any information we may have about you, send us an email.
More Legal Stuff that you may want to read.

Any kudos, rants, raves, questions, or comments about this website? Talk to us.